Resources
Discover essential climate investment insights with our resources, including our latest webinar 'Show Me the (Climate) Money' and download the e-book 'Climate Investment in Aotearoa'.
Show me the (Climate) Money – How Climate Impacts Your Investing
How does climate change affect your personal investment? And how can your investments can affect climate change?
This free webinar – by Mindful Money, Climate Venture Capital Fund and investment advisor Darcy Ungaro – is for anyone with a KiwiSaver and is interested in ethical, personal or impact finance.
In this seminar you will learn how climate change punishes some sectors, creates opportunities in others – and what that means for you as a personal investors and how you can use finance as a weapon for good.
The panel includes:
Darcy Ungaro – investor, advisor and host of the leading investor podcast NZ Everyday Investor
Shannen Barnes – research analyst for Mindful Money
Rohan MacMahon – co-founder of Climate Venture Capital Fund
Vincent Heeringa – host of This Climate Business
E-book: Climate Investment in Aotearoa
Climate Investment in Aotearoa provides an outline of the climate investment landscape in Aotearoa New Zealand in 2023.
The e-book covers a broad range of climate impact investment options and, for each, considers:
What level of Climate Impact may be expected from this form of investment?
What level of Potential Returns may be expected?
Is it a form of climate change "Mitigation" (reducing emissions, so that climate change has a reduced impact) or "Adaptation" (dealing with the consequences and impacts of climate change) – or both?
Is it a kind of Investment or Granting – or possibly both?
Is it a form of Equity or Debt – or possibly both?

We hope this resource is helpful for all kinds of investors, whether Non-Government Organisations, philanthropic investors, wealth advisers or individuals, who wish to do more to address climate change to better understand the range of climate impact investment options available.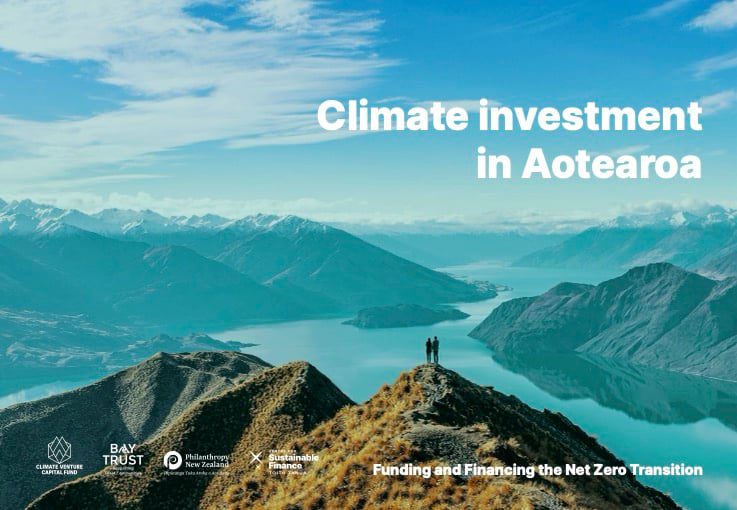 "As with all our mahi we do at SBN, we wanted our investment policy to be aligned with the purpose, values and ethical ideology we have at SBN. The Climate Venture Capital Fund that we have invested in meets our requirements for providing positive impacts aligning with SBN's purpose and values"